Today, you will find out the traditions of some prestigious places, and learn the history and anecdotes of the neighbourhood life whilst driving around the narrow streets of the capital. Have Fun !
Walking tour in a typical Parisian Food Market :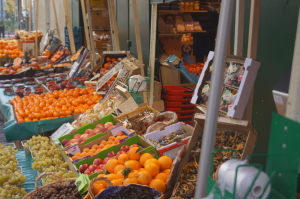 Your guide will wait for you in the lobby of your hotel or apartment in Paris at 9.00 am and you will depart immediately to one of the biggest markets in Paris where you will find a rich variety of fresh products. Fish, meats, cheeses, fruit, vegetables and flowers are delivered almost daily to this amazing place. Your guide will show you some of the specialities which have contributed to the French reputation in Gastronomy. You will learn about french food habits, and receive recommendations on how to choose and prepare the produce. This walk is not to be missed !
Discover the best food adresses of the moment !!!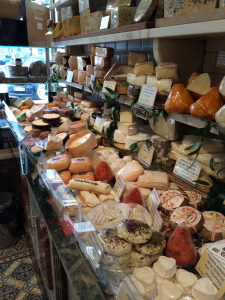 Following this, you will be driven to the best food addresses of the moment making the appropriate stops for tasting. Paris is like New York ! Every restaurant, bistro, bakery or food market has its own speciality, and every week you have new places which open in 'the capital of food'. This is what you are going to discover with your guide. He will also give you good tips to select the best restaurants and food specialities.
See the most

prestigious Parisian restaurants

,

markets

and caterers
Stop at the best Pastry shops and

Boulangeries

Enjoy the

best baguettes

,

croissants

,

crêpes

,

ice cream

,

macarons

,

cream

puff and

hot chocolate

Learn about the

best

wine cellar

,

cocktails bars

and

cheese places
Tasting some of the Best Produces :
It is now time for the most interesting part of your tour : taste the produce that supplies Parisian family kitchens and some of the world's best restaurants. With your food expert you will understand about the importance of Terroir (regional influences on food) and you will learn to make the difference between Camembert and Brie. Taste some seasonal specialties, savor some of the country's best charcuterie
Your food experience would not be complete without one of Paris' famous pastries. Enjoy the signature creations of some of the world's best pâtissiers and discover what a real French éclaire should taste like. Even though some tastings will be free in the markets, and some shops do offer free samples, we highly recommend that for this tour you have a small budget, so that you can buy some bread, macarons, chocolate or cheese. Some places are quite exclusive and very famous, so do not provide samples directly on the spot.
Feel like a Parisian …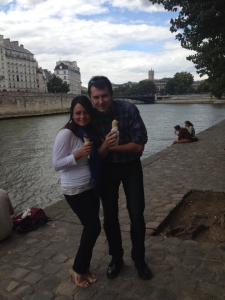 Your guide will teach you how to order a croissant and choose a good baguette at a local boulangerie. You will never look at a baguette in quite the same way again. At the end of the tour, your guide will give you his personalised list of all the places that you have been with him throughout the morning, so you can go back during your stay to the places you loved most. In accordance with your wishes, he will also help you to make bookings in the best restaurants. Don't forget, that there are always new restaurants in Paris and you have to be aware of what's going on. You want to make sure you go there when the chef is cooking in the kitchen ! After this delightful and very tasty morning, you will be dropped off at your hotel, or wherever you want, inside Paris.
Tastings are not included
Build your own trip !!! Flexible Itineraries
Design your own customized tour by building on an existing tour itinerary or creating your own. We'll help you design your own tour, whether that means coordinating your visit around a special event or adding excursions exclusively. To create your own itinerary email us at steeve@theamericansinparis.com.
We will process your request and get back to you shortly. Thank you.
Category : Half-day tour, New Tours, Paris, Paris by mouth, Paris with children, Private tours