Giverny, Capital of the Impressionism. You will be picked up at your hotel or apartment in Paris, in a deluxe, private vehicle and, after a pleasant 1 hour drive, you will arrive at the beautiful village of Giverny, situated at the gates of the Normandy region.
The Village of Giverny :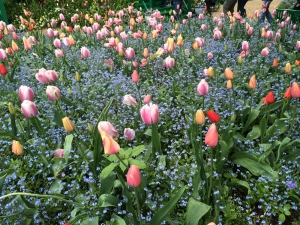 Upon your arrival, you will be given an introduction by your private guide to the world of Impressionism and the life of Claude Monet. Your first stop will be near Sainte-Radegonde Church in Giverny where Claude Monet is buried in the family vault. This is an ideal starting point to begin your tour. Thanks to your guide, you will learn about Monet's personality and family life. In his letters, Claude Monet continuously expressed his ever-growing attachment to Giverny ; he remained in this village until his death, the 5th of December 1926.
Walking tour in the Water Garden :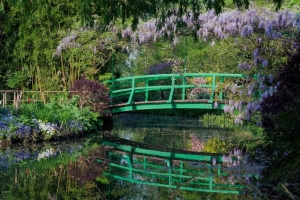 Enter with your guide through a special entrance to avoid the queues. He will give you the tickets already bought in advance for you. Claude Monet lived in his home at Giverny for forty-three years, from 1883 to 1926. In 1890 he became the owner of the house and gardens, and transformed them completely. You will follow your experienced guide, first for a visit of the water garden with its famous Japanese bridge and water-lily ponds covered with wisterias, before discovering the flower garden in front of the house called the Clos Normand. This is incredibly beautiful, particularly between April and October (the vast range of flowers bloom successively, so that the garden changes gradually with the seasons whilst maintaining its colours and brightness).
Inside Claude Monet's House :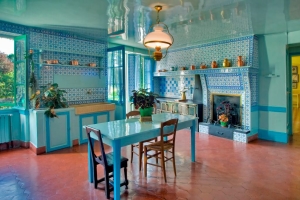 Enter with your guide inside the house and discover the first studio of Claude Monet, his bedroom, the dining room, the kitchen and his fabulous collection of Japanese engravings.
Along the Seine Valley …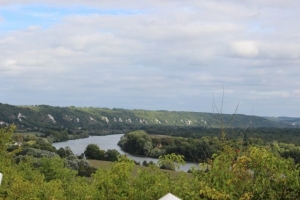 After a stroll through the wonderful gift shop in Giverny , relax and enjoy the scenery whilst driving on the countryside road along the Seine Valley to reach La Roche-Guyon and its castle, elected by the French as one of the most beautiful villages of France. Located on a bend in the Seine, the Château de la Roche-Guyon has a unique setting nestled against a steep cliff. It was also occupied by the German état-major during World War II (General Rommel's Headquarters). After a last photo-stop of this very colourful day, you will be dropped off at your hotel.
Tickets to Giverny are not included (no waiting in queues).
Build your own trip !!! Flexible Itineraries
Design your own customized tour by building on an existing tour itinerary or creating your own. We'll help you design your own tour, whether that means coordinating your visit around a special event or adding excursions exclusively. To create your own itinerary email us at steeve@theamericansinparis.com.
We will process your request and get back to you shortly. Thank you.
Category : Giverny, Half-day tour, Private tours, Tours