Welcome to the biggest fresh market in the world…
For lovers of good living, the Rungis professional wholesale market is a paradise only 5 minutes from Paris. It is the only market in the world where you can find such a rich variety of fresh products. Fish, meats, cheeses, fruit, vegetables and flowers are delivered daily to the 232 hectare market. On this tour, our gastronomic expert will show you some of the specialities which have contributed to the French reputation in gastronomy. For the privileged early birds who are tempted to visit the incredible ballet of 26,000 vehicles which come daily to Rungis, switch on your alarm clock so as not to miss this. The visit starts at 5.00am! The purpose of this tour is for you to discover the 5 different markets, that is to say, 5 different tastes, smells and colours. This trip is simply amazing!
Your  gastronomic expert will wait for you in the lobby of your hotel or apartment in Paris at 4:30am and you will depart immediately to the biggest fresh market in the world. On the way, you will be given a complete introduction about Rungis and your guide will give you the full hygienic equipment (cap and suit) for an appropriate visit. Rungis is a city in the city reserved purely for professionals, which is why you will need an official and accredited guide. Remember that you will not be able to buy produce directly from the market and that you will need private transportation from one market to the other, as Rungis is huge.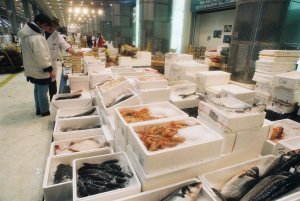 You will start your visit at 5.00am with the fresh fish pavilion of the 21st century. Inaugurated in 2004, the new Fish Pavilion is a star of Rungis Market and a world benchmark, as much for its infrastructure as for the quality and diversity of its products. Innovative technology has been used to improve health, safety and cold chain compliance. With roughly 145,000 tons of fish and shellfish sold every year, the fresh fish sector of Rungis is one of France's largest ports in terms of volume.
Following this, you will be driven to the meat market which includes: the beef, the pork, the poultry, the game and the tripe pavilions. You will find all the top quality products here, such as Bresse poultry or raw foie gras. You will learn about French food habits, and receive recommendations on how to choose and prepare the produce.
It is time to enjoy the world's largest cheeseboard. Discover all the families of cheese represented in their diversity: soft, hard, blue, goat, soft and hard pressed cheese, and fromage frais. Your guide will show you some secret spots and you will discover a unique cheese cellar before reaching the Fruits and Vegetables Pavilion.
Every kind of fruit and vegetable is available at Rungis all year round. There are products from Ile-de-France, or the other side of the world, baby fruits and vegetables, and the stall displays take care to highlight the selected products' freshness and appearance. It is an essential location for introducing new fruit and vegetable varieties from around the world. For example, kiwis, baby vegetables or even comestible flowers began their career in France in Rungis' pavilions.
Enjoy the visit of the last pavilion where you will discover thousands of flowers and plants. With many varieties of cut flowers, potted plants and even bonsaïs, the sector offers a choice to suit every style. After the visit, you will have a typical Rungis breakfast served at 7:30am in the best restaurant of the market: Have a lot of fun!
Viennese pastries, bread, butter and marmelade
Charcuterie and cheeseboard
Fresh fruit salad
Warm and cold beverages : coffee, tea, juice, hot chocolate, red wine
Return to Paris around 9:30am
Highlights of the tour include:
Private visit with a professional guide inside the 5 pavilions
Hygienic equipment
Typical breakfast in the market
Private transportaion in deluxe air-conditioned mini-vans
Photo-stops at your convenience
Pick-up and drop off at your hotel in Paris
Build your own trip !!! Flexible Itineraries
Design your own customized tour by building on an existing tour itinerary or creating your own. We'll help you design your own tour, whether that means coordinating your visit around a special event or adding excursions exclusively. To create your own itinerary email us at steeve@theamericansinparis.com.
We will process your request and get back to you shortly. Thank you.
Category : New Tours