Day 1 : Champagne. Epernay and Troyes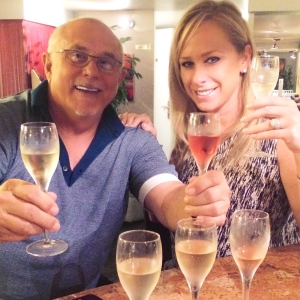 Your Licensed English-Speaking Guide will pick you up from your hotel in Paris at 8.00 am in a deluxe private vehicle. He is also a Professional Sommelier graduated from the French Wine University. Only one hour East of Paris, you will begin your day with a stop in the middle of the vineyards where your guide will explain to you about Terroir, geography and grape varieties. Following this, a private, guided visit to a small and exclusive local wine producer will help you appreciate all the stages of making Champagne wines, from vinification to labelling the bottles. You will be able to taste 3 different Champagne : a Blanc de Noirs, a Blanc de Blancs and a Rosé de Saignée. After this first tasting, enjoy the scenery whilst driving along the Champagne wine road to reach the village of Hautvillers, the birthplace of Champagne, where Dom Perignon invented the precious beverage at the end of the 17th century. Enjoy a private visit at the Church of the Benedectine Monastery where Dom Perignon is buried. After the Church, it is now time to have a commented tasting with your sommelier in a unique Champagne bar. The best time for tasting is actually just before lunch ! Enjoy a selection of three or six glasses of Champagne in a great atmosphere. Following this, you will have a gastronomic lunch (not included) in a traditional restaurant in Epernay before visiting a prestigious House of Champagne. Enjoy a final tasting in the biggest cellar of Epernay before heading  through the beautiful town of Troyes in the late afternoon, where you will be dropped at your hotel.
Day 2 : Burgundy. Dijon & Côte de Nuit 
Day 3 : Burgundy. Beane & Côte de Beaune
"A little bit of history, a variety of visits and a tasting in the middle is the perfect recipe for a great one-day tour in Champagne," Steeve CALVO, Sommelier.
Have a favorite house or style of Champagne ? Rather than a set itinerary, all our wine tours can be tailored according to your wishes and tastes so just let us know !!! Cellar visits and lunch are not included in our rates and these can be paid on the day locally. (Menus are at 25 euros for lunch, per person, and a few euros for the tastings) Personal expenses, tips and gratuities are also not included.
Build your own trip !!! Flexible Itineraries
Design your own customized tour by building on an existing tour itinerary or creating your own. We'll help you design your own tour, whether that means coordinating your visit around a special event or adding excursions exclusively. To create your own itinerary email us at steeve@theamericansinparis.com.
We will process your request and get back to you shortly. Thank you.
Category : Burgundy, Champagne, Wine tours